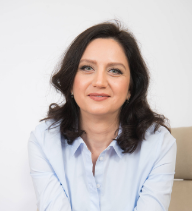 Carmen Negiba (Romania)
Coach ICF ACC / Mentor / Organizational and leadership development Consultant
Languages:
Bulgarian, English, French
Personal profile:
Carmen is an Executive and Leadership ICF certified Coach, Mentor & Organizational development Consultant
As an ACC coach certified by International Coach Federation, her focus is to support managers, entrepreneurs and their teams to develop and sustain a growing mindset and to leverage their leadership and interpersonal skills in order to achieve their objectives.
She brings together neuroscience, positive psychology and business acumen and translate them into programs that lead to personal and organizational transformation.
She is experienced in Executive Coaching, Growth Mindset, Behavior Change, Designing and delivering leadership development programs and business focused solutions, Assessing and shaping corporate culture, Communication, Transition and Processes Optimization.
She is implicated in several organizations as a mentor and coach:
• Professional Women's Network – she is mentor and coach for senior leaders and managers from big corporations. PWN Romania is part of the PWN global – a dynamic fast-growing offline and online network and leadership development platform for professional women from various sectors and industries.
• Association for Values in Education – she is mentor and coach for schools principals within the Leadership & Educational Management Academy.
• Leaders Foundation – she is a mentor and coach for leaders in different stages of their career
• StepFWD – she is a business coach for start-ups
Coaching specialisations:
Executive, Leadership
Team coaching
Mindset & behavior changes
Transition or preparing for new roles
Communication, Delegation
Conflict Management
Time management
Clients :
Individual clients – managers in big organizations from Romania, UK, Ireland, Poland, France, Spain, Hungary, Bulgaria
Companies – from Romania